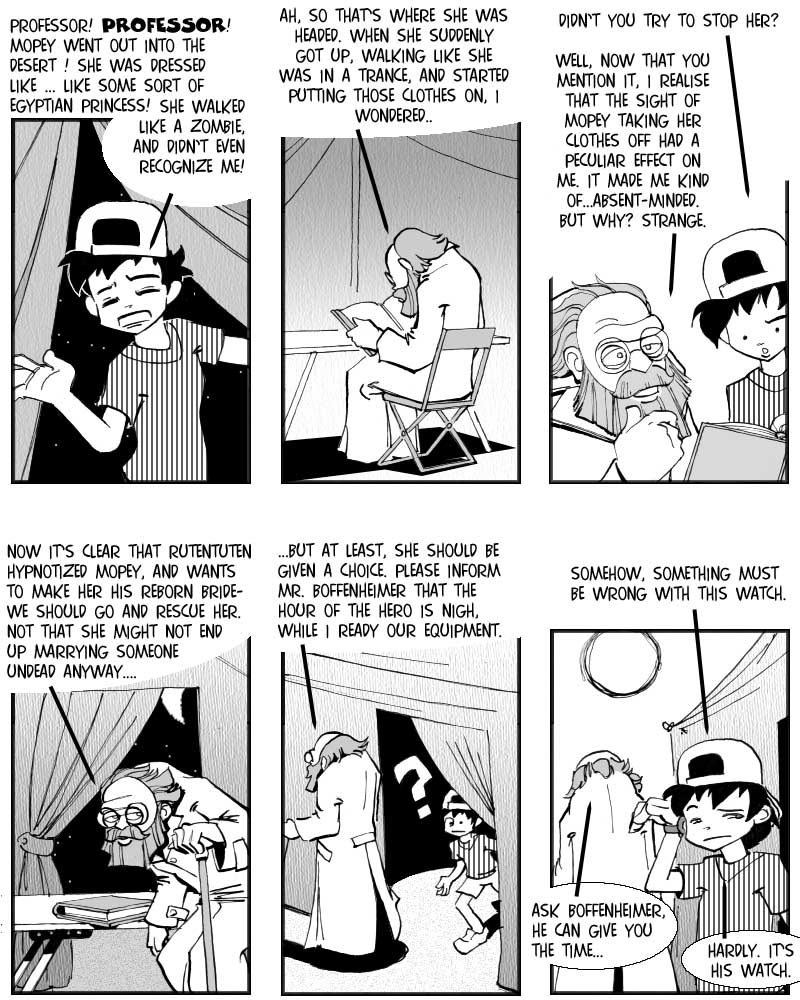 The professor got it right. No idea where he got it, but he got it right.
Ah, the mind-set of a typical b-movie professor: At one moment being baffeld by the most mundane of things, in the next moment able to analyze the situation with a precision explainable only by clairvoyancy of the highest order. Slower than a creeping plant or faster than light, the mind of a b-movie professor always works with the speed of plot.
In the 50ies, when science was still more arcane and mysterious than magic, such a sudden burst of unexplainable realization as the professor displays in panel 4 still had a tiny shred of plausibility to it. Nowadays, having scientists gain comprehensive knowledge out of the ether is not really considered brilliant scripting anymore. Better blame it on sum' of them thar middichlurians.
Day / night continuity strikes back! This here is one of the more common forms of this problem: Inside and outside of the same building not appearing to be in the same time zone. There are two explanations for this:
1.) Inside and outside scenes were shot at different times, and there wasn't enough time or competence around to make sure it was at least the same time of day.
2.) The building has very, very, very, very, very, very, very, very, very, very, very, very, very, very, very, very, very, very, very, very, very, very, very, very, very, very, thick walls.
And since I mentioned mind-set: Snuka does not consider himself a thief. He has taken Biff's watch, true, but if Biff ever wants to know the time, Snuka will tell him. Actually, it's more like Snuka is just carrying Biff's watch for him, saving him the effort. And should Snuka find someone to sell the watch to, he would share the profi… no, actually, he wouldn't. Well, I guess he would consider himself bit of a thief then, but it's just a stupid watch, after all, and it's still more honourable than working for the I.R.S., isn't it, and he's an orphan, and he's hungry (you can see his RIBS), and has imaginary sibling to take care of, and they' ll break his legs if he doesn't pay them, and he hasn't KILLED anyone, has he, and Biff is really wealthy and can afford a new watch, and he will repay him later, once he has the money, and he needs the money for that operation, and his grandmother is ill, and the watch just, like, fell into his pocket, anyway, and he has a really bad cold that won't get better (cough, cough) and it wasn't even really Biff's watch, if it was a watch at all, and it's not like you've never taken anything that belongs to another person, tell the truth. So he's not REALLY a thief, is he?
And speaking of scientific sensations, voting for my comic has been proven to 1ncreas3 ur p3niz 5ize as effectively as any method offered in any spam you received today. For female readers, it increases one other bodily attribute of choice (2 breasts count as one attribute, don't worry).
Next Monday is 'X-day – 8' for operation 'Liberty splendid Marsupial'(=rescue Mopey).