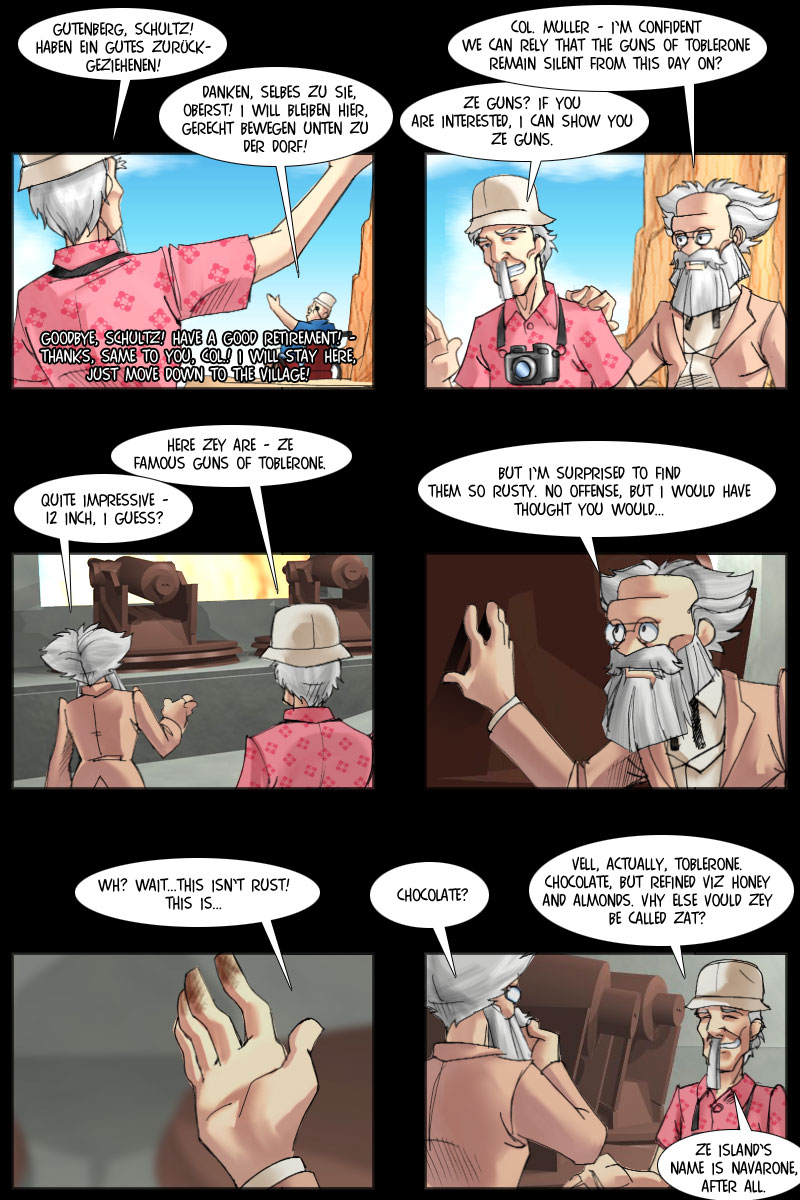 And thus the mystery of the Guns of Toblerone is solved – after all, it would have been totally illogical if a Greek Island would have had a name like Toblerone, wouldn't it? No, the Guns of Toblerone were simply named after the material they are made from, cf. description such as "bronze gun", "banded iron gun" etc. Now you might think chocolate is an odd choice of material for heavy artillery – but, as Col. Muller helpfully pointed out, it's not chocolate, it's Toblerone. Refined with nougat, honey and almonds! (Disclosure: I have received no kick-backs from Kraft Foods for this endorsement. Not even a single free bar. Cheapskates.)
As you can see, the Col. (ret.) and Sgt. Schultz are no longer in uniform – well, at least not in Nazi army uniforms. They've switched to typical German retirement/tourism uniforms (summer version): Gaudy short-sleeved shirt, drab soft hat, camera and (not depicted) shorts, white socks, sandals. Of course the same transformation took place not only for those two guys but for the hundred of other Nazi ex-soldiers in the garrison – there just wasn't enough budget to hire hundreds of extras, so all of that takes place on the other side of the bunker, just a few inches outside of the frame.
Schultz, for one, will stay put – he's gotten used to the Island and the locals, so he'll just move down to the village and open a German restaurant at the quaiside, catering to tourists. It remains to be seen, however, whether German cuisine is a smaller or a bigger threat to tourists than the 12 in. guns. >_>
More on Thursday.