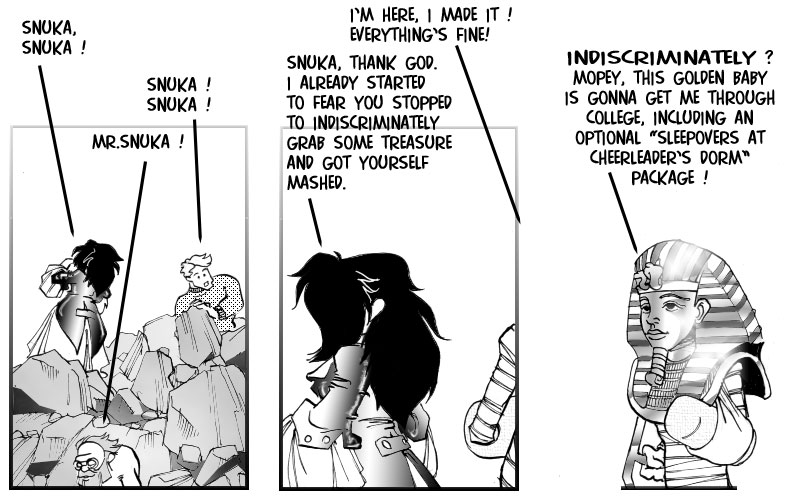 As the dust of the collapsed tomb settles, one member of the key-cast still goes missing – did Snuka really fall victim to the time-honoured 'scoundrels must be punished' rule ?
Hi again in 2006! The 'Rutentuten' storyarc is in the final leg now, and, by popular demand, Snuka did NOT go all squishy-gooey. Young scoundrels like him profit from the 'boys will be boys' exemption to the 'scoundrels need to be punished' rule of commercial story writing. So let's keep an eye on him – if he shows no signs of growing up to be a productive, law-abiding citizen, I can still drop a 10-ton boulder on him later.
But Snukums certainly has an eye for quality, craftsmanship and functionality – the piece he selected is not only of immeasurable value, but also serves as protective headgear. Now if it only had openings for the eyes…
I just wonder how people come to claim things like Tut's mask are 'immeasurable' in value – after all, what are you going to do with it ? Set it up in your living room, so it's disturbing eyes can follow you across the room all the time ? Show off to your Beverly Hills neighbours by sending your kid trick-or-treating in it ? Well, upside down it might be a vase, or something…
If your particular venue of higher education doesn't offer a 'sleepovers at cheerleader's dorm' package – well, sucks to be you. 😀 If it does, go for it – the experience is well worth the price, and it counts toward 'Social Studies'.
I'm still in the midst of moving, and it looks like I'll be out of net access for a prolonged time – this comment reached you o a 3.5" disc I slipped Zep when I met him. Still, updates will continue on schedule – but if you sent me an e-mail, it might be some time till I will be able to answer.
I hope your new year's resolutions included voting for me regularly – a very commendable habit, by the way. On Thursday, we will cover another b-movie essential – cast members announcing their marriage. (And no, I won't tell who is concerned 😛 )