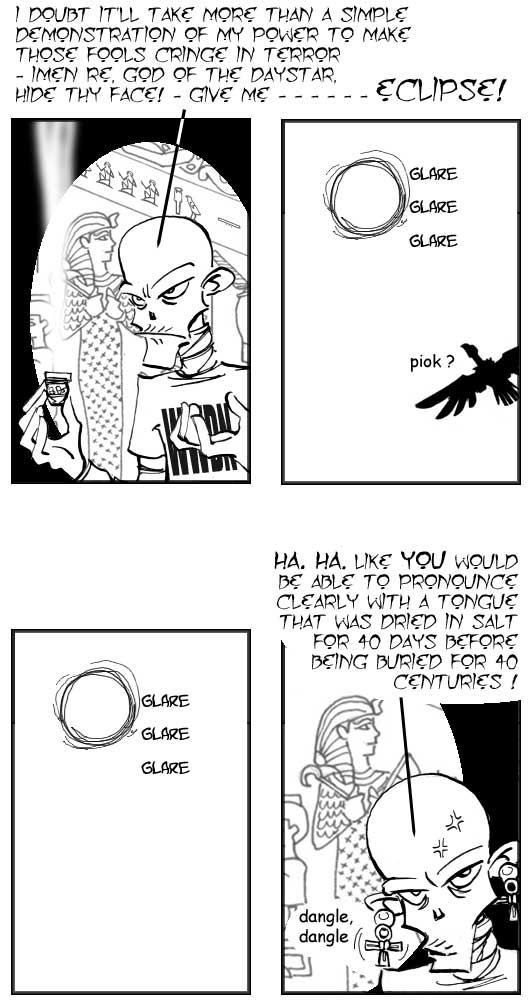 Cringe in terror at the sight of the fancy earwear of doom!
Actually, a pair of earclips appearing out of nothingness is a pretty neat miracle, as well, but somehow, it lacks the visual impact to make someone cringe in terror. (Now pain, pain is another thing. I' ve seen earclips that made me almost delirious with agony. I took great care in selecting this pair for Rutentuten- the ankh-shape fits his angular features well, and their white-gold matches the color of his wrappings just perfectly. Too bad this is black and white.) Another problem for Rutentuten is how to communicate his slightly botched miracle to his opponents.
Hmm, let's visualize this:
Professor: "Mr. Boffenheimer, Mr. Snuka, I just received a postal missive from our enemy. It contained this photograph, with the caption: "Turn back, fools!". The photograph shows an aggravated- looking mummy wearing fancy earclips."
Biff: *runs off screaming into the distance*
Snuka: "GOLDEN earclips?"
No, doesn't quite work out.
I guess Rutentuten will have to write this attempt off, and come up with something different. Yes, something different. He is a movie villain, he can not just repeat one and the same attempt until he succeeds, even if it was the easiest and most logical thing to do. He has to come up with something else, it's just the way of the villain.
And I finally managed to sneak in my favourite supporting cast member vulture once again. And he still remembers his line (well, more like his sound effect).
Speaking of sound effects, if you like clicking sounds, I have some voting buttons lying around on the site. Please come back on Monday, when Rutentuten has to come up with a different plan. Villain law.