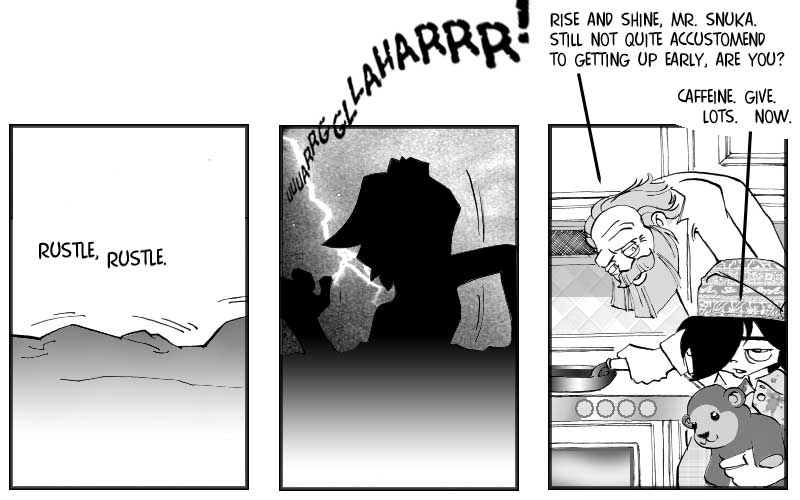 Phew, thank God it was just Snuka getting up. Looking at that second panel, and given those mysterious remarks from Monday's update, one would almost have expected something more sinister than a sleepy teenager dragging himself out of bed. … but say, what if those panels don't really belong together? … Muahahahaha!
Actually, thinking about that again, is there even something more sinister than a teenager getting out of bed? Debatable, at least. The sound effect isn't helping, either. Eerie, monstrous, tortured moaning – just like a teenager getting out of bed…
Admittedly, it would be easier to discern the goings-on if I hadn't depicted it backlighted by lightning…but I just couldn't pass up that classic b-movie effect. It's not only good for obscuring things and creating atmosphere, lighting is also used symbolically in movies – nature is in turmoil, the celestial forces are out of balance. The perfect backdrop for the awakening of a supernatural, indescribable evil…like a teenager getting out of bed…
One of the major changes for Snuka in his new surroundings is the need to get up early, obviously. Back in Cairo, he used to sleep until the midday sun would wake him – or the Police knocking at his door. And if it was the Police, the first thing he would do was hiding Mr. Bear – he preferred getting caught with a bag of loot to getting caught sleeping with a teddy.
For the record, Professor Doctor is not irresponsible in giving Snuka coffee. It's just that Snuka was habitually drinking several cups of Egyptian coffee a day. Egyptian 'coffee' is actually more like slightly moist caffeine powder – if a fly drops into your cup, it won't drown, since it can walk on the surface. So the Professor calculated that Snuka operated normally on around a pound of pure caffeine in his little body, and if he would make him go cold turkey, he might just implode from lack of internal pressure. Consequently, Professor Doctor supplies Snuka with a gradually declining amount of coffee, to wean him slowly and carefully. At the moment, Snuka is already down to half his former intake of caffeine – i.e. 43 cans of American coffee a day…
Speaking of severe withdrawal symptoms, I'm still without net access. At least I've received a written confirmation for the Feb. 6th deadline… I just hope I'll last that long before I implode…
Next Monday, it'll get just a little bit splattery about here. Sorry, but I can't avoid it totally, this chapter needs just a tiny amount of gore…but I'll try to do it tenderly, promise.
Title: Awakening desires
Text: No, we're not talking about Snuka discovering some wetness on his blanket in the morning…