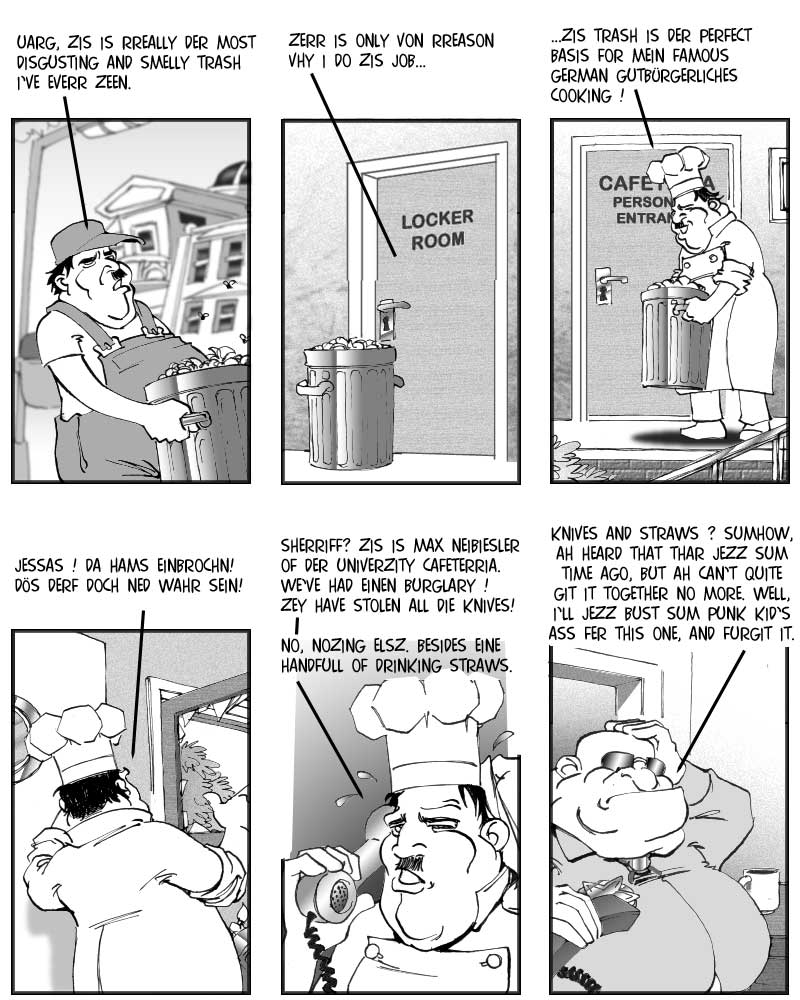 Nothing adds that little bit of exotic spice to a B-movie like some strange guy speaking with a heavy foreign accent. The 'B-Movie Makers' Handbook' offers a concise list of accents and their stereotypical application for support cast in movies:
Italian: – mostly comic relief, also: general projection of incompetence French: – mostly comic relief, also: projection of refined tastes and cowardice Hungarian: – strictly villainous, cover-it-all. Bela Lugosi played Transylvanian vampires, Haitian zombiemasters and even Chinese master criminals using the same Hungarian accent without audiences complaining. Australian: – mostly comic relief, generally positive, also: conveys a feeling of being lost. British: – comic relief or uptight heroism, also: intellectualism and/or sadism Japanese: – originally strictly villainous, now also: wise oriental teacher or friendly, enthusiastic perv. German: – originally uber-villainous, now also: comic relief. Only accent suitable for combination villain/comic relief characters. Canadian: villainous/disquieting, also: conveying a sense of 'enemy from within'
I went for the German accent, because I thought somebody running a university cafeteria would be a combination villain/comic relief character by default. Even if Mr. Neibiesler does an exemplary job here: far from all cafeteria chefs change clothes between trash collecting an cooking…
And on a cautionary note: You've probably heard people praising Italian, French or Chinese cooking, but never German 'gutb?rgerlich'. Before you ever get the idea to taste the latter: There's ample reason for that!
Of course, technically, this is another 'foreshadowing' episode. In an ideal world, these work by subtly tipping off the audience to future events in a way that would naturally be overlooked by the characters. In the world of B-movies, it works by running the hint over the audience like a steamroller, and have the characters ignore the obvious conclusions because of…uh, well, just because of.
That's it for today, Biff and Mopey are up on Thursday. Don't forget about Maria & Michelle's garage sale (link: http:\kudasai.stripspace.com).
Title: If you can stand the heat, steal from the kitchen.
Text: Redneck meets German in the big battle of comic relief character accents.