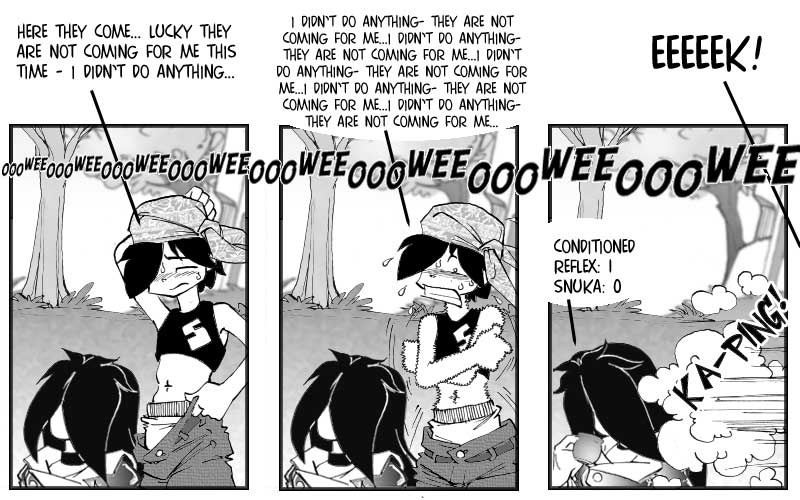 Rae, artist of the great webcomic 'Strange Fruit' (www.aStrangeFruit.net), has made this (-> link: https://desdemonhu.deviantart.com/art/B-Movie-Comic-Fan-Artings-29049139 spectacular pin-up of Mopey! Perfectly characterized, and with more cleavage than I usually dare to have her show. 😛 Don't forget to also check out her comic, an atmospheric modern fantasy manga (if you don't mind a bit of gore and a touch of shounen-ai).
Speaking of shounen-ai, Maria and Michelle of Shounen-Ai Kudasai (kudasai.stripspace.com) are holding a kind of online garage sale to raise money for a trip – check out whether they have anything you might like, and help send M & M to Canada.
Going on to today's strip, that vision of a reward (and a sports car) put up a valiant fight in Snuka's internal struggle, but the conditioned reflex proved just too strong. Especially since it was supported by Snuka's 'when in doubt, run' default setting. And by the realization that he'd need a head start in any case – the need to regularly pull up his trousers slows down even a snukathon champ. At least he'll get rid of the adrenaline that way.
By the way, Mopey is only listening up – she is definitely not sun-bathing.
On Monday, we'll let Snuka catch his breath a little, and then I'll finally get to introduce the Sheriff – he'll play an important role in this chapter.
A new voting incentive also goes up today, but I don't have a buffer for the incentives, and my scanner isn't working at the moment. So unfortunately, I have to fall back on my vector-drawing skill, which are 'de tipo mucho suck'. At least it's educational, that's got to count for something.
Title: Pavlov's urchin
Text: A lifelong habit of running from the police is hard to break – the Sheriff better had turned off the siren.