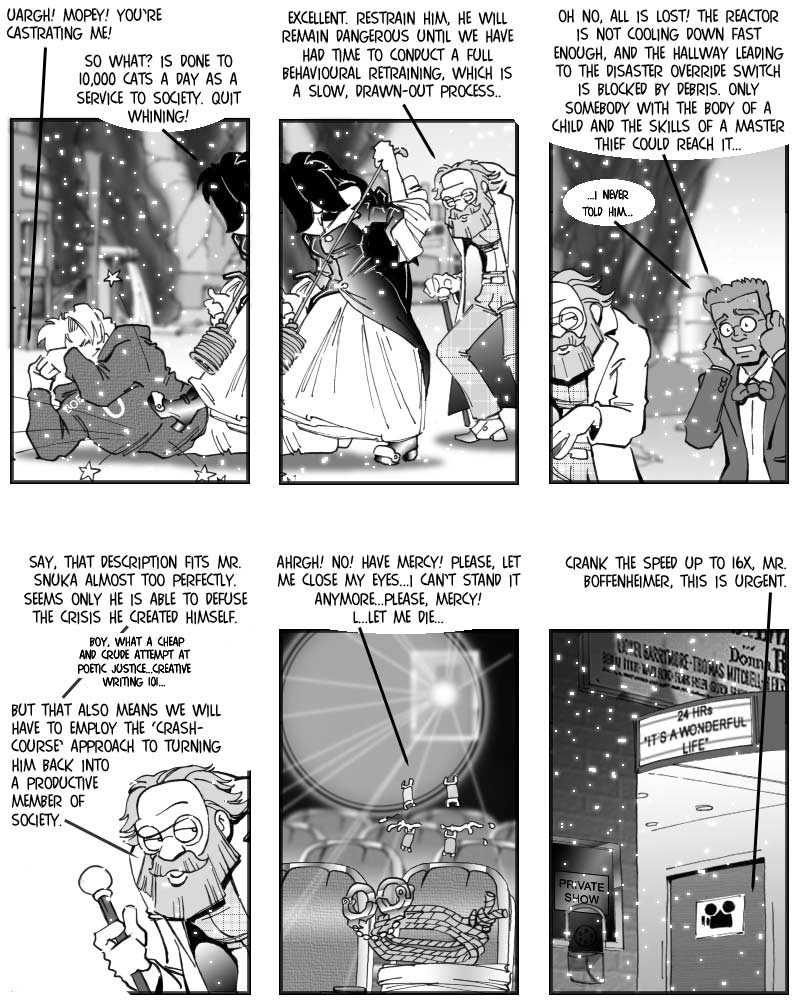 I couldn't find any precise number for cats being neutered, so 10,000 daily is just a wild guess. Mopey probably wouldn't know, anyway – as already stated, she is not a cat-person, but a chupacabra-person. Chupacabras are not neutered, normally – after what happened to that one veterinary who tried, nobody wants to risk the surgery.
As you can't see in panel one, Snuka has been brought down, at last. The Laws of Movie Scripts require a culprit to always be somehow punished for his misdeeds, so there are only two options here: 1.,Snuka manages to escape and, despite our friends' best efforts to save him, falls into a pit of molten lava. or 2., He somehow contributes to undoing the damage he caused and gets off scott-free. Yup, no matter how massive or far-reaching the consequences of some villain's misdeeds are, if he later aids the heroes in any, even absolutely minor, way, it's considered a sufficient show of repentance to get him out of the mandatory punishment clause completely. And that works even if their aid only consists in contributing to averting a catastrophe they had originally caused themselves. Poetic justice = justice without rhyme nor reason.
Naturally, I chose option 2. It's too late for option 1, anyway – it would have required a mandatory exposition scene for the lava pit earlier, in which Snuka throws some hapless victim into the pit where he later would find his own end. You have to stick to the rules.
Speaking of poor script, actually the Professor has no reason to speak of turning Snuka *back* into a productive member of society. Unless the excessive production of hormones counts.
Now, nothing against 'It's a Wonderful Life'– it's a great movie, if you see it once a year. But I'm pretty certain that it could cause massive behavioural changes in somebody subjected to multiple, back-to-back showings. In case you want to find out for yourself, without spending excessive amounts of time, here's the '30 seconds, re-enacted by bunnies' version.
Another peek behind the scenes on Thursday, and next Monday we'll see how Snuka's retraining worked out – thankfully without any more pandering to 'invisible bondage' fetishists. =P Please vote.