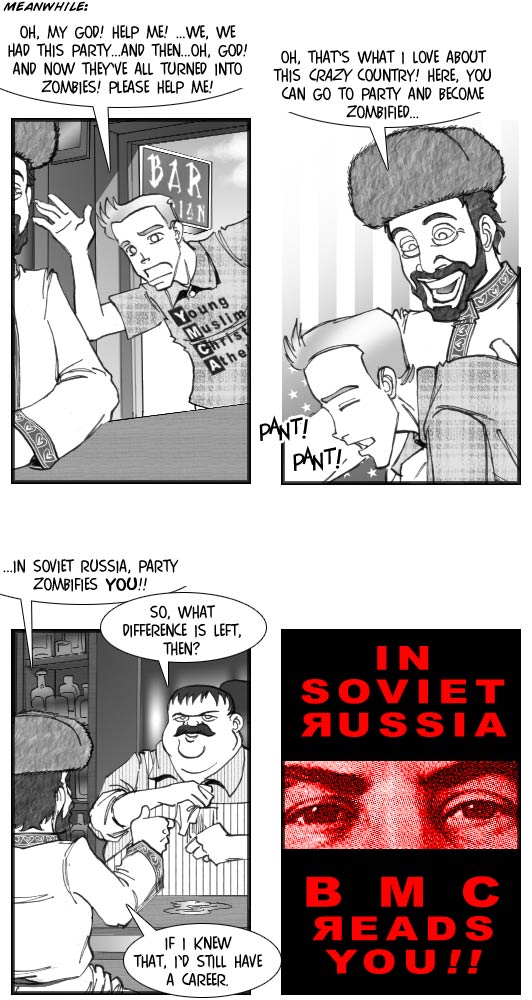 Y'all remember what's-his-name? There were times when that guy was ubiquitous…nowadays, only his 'Russian reversal' remains in the public consciousness. Although it might be a bit unfair saying he hasn't got a career, anymore – I'm sure he's still going strong in his career. Which likely centers around flipping burgers, by this point. (Seriously, though, AFAIK he's still touring, as well as running his own theatre – he's just no longer on TV much. I still can't remember his name, though.)
But, hey, perhaps he could team up with Sacha Baron Cohen. Since Borat is by now too well known for his pretense shtick to work, resurrecting that old Russian character might enable them to have a different angle…and, actually, some of those old Soviet Russia stereotypes are more applicable again to Russia today than they have been a couple of years ago. And, as an added boon, by making fun of Russia instead of Thazikistan, Baron Cohen's standing with the Thaziks would improve considerably – from persona non grata to patron saint. Many people can't really laugh about themselves – but everyone can laugh about people from other countries.
The shirt on the guy in panel one is another authentic Engrish one – "Young Muslim Christian Atheist". Probably a shirt for people wrestling with spiritual uncertainity.
Bonus points to anyone recognizing the pair of eyes from panel four – no, they aren't mine. Their stare would have been too cold and merciless…
For today's voting incentive, I've for once found a news headline that allowed for a true B-movie angle. More on Monday.