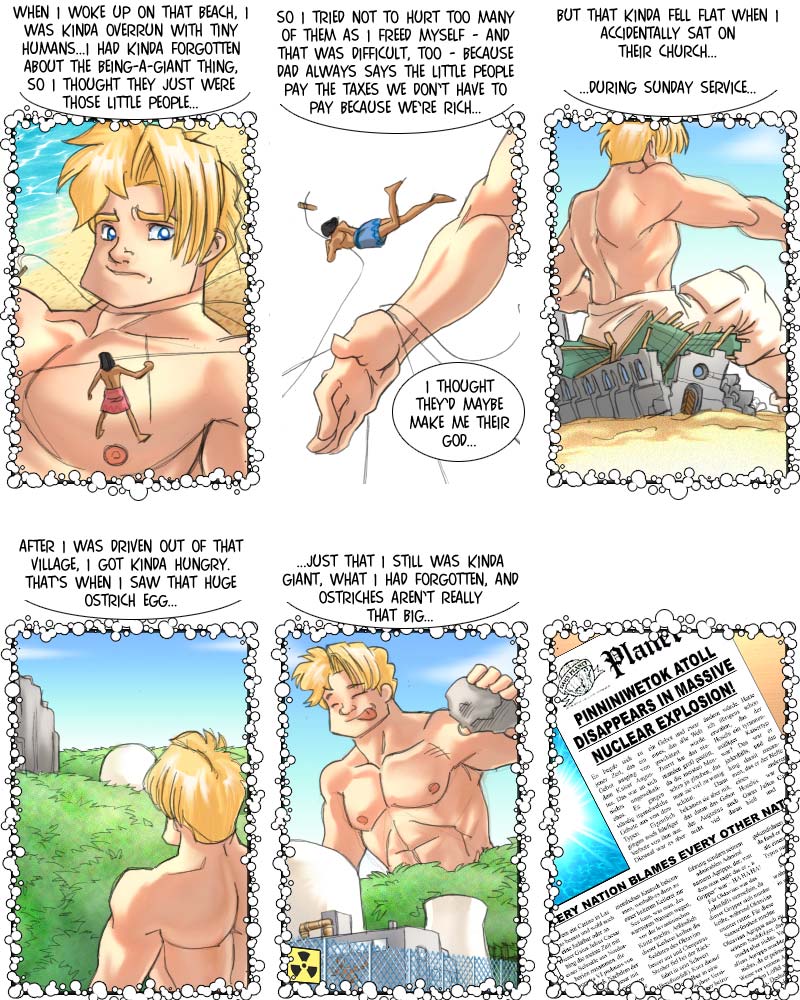 I guess it's quite logical that a giant Biff would be even more of a pain to have around than a normal-sized one. In this case, he has managed to wreak complete havoc on the Island and ruin everyone's life within a scant few hours of his arrival – at normal size, that would have taken him a week, at least, perhaps even two.
And, yeah, inevitably Biff is from a rich family – in B-fiction, every jock has rich parents, its part of the stereotype. And these parents will also universally be arrogant, bigoted and generally unpleasant. And they'll always be members of the local country club, if not actually running it. I'm not quite sure, however, whether that typical family background scenario is supposed to make the jock more sympathetic or less – audience reaction, from what I have observed, seems to tend towards the latter.
It has often been pointed out that, on a theoretical level, it is impossible to provide positive evidence of the non-existence of a god. On a practical level, a giant washing up on shore and accidentally sitting on your church during Sunday service probably provided all the evidence the Pinniniwetokians needed… (at least to go looking for a different god, from whichever one they were worshipping.) At least Biff's parents will be happy to hear he spent his Sunday morning sitting in a church…if he's clever enough (yeah, I know, whom am I kidding?) to leave certain aspects of the occurrence unspecified.
I'm really no Jonathan Swift, though – I could have tried to turn this into some kind of social satire by supplying the Pinniniwetoks with a detailed societal background that would have been both alien, yet strangely reminescent of aspects of our own society. But then I decided it would be funnier to kill them all with nuclear slapstick. ._.
More on Monday.